Carmignac's Note
This global economic slowdown would be less of an issue if it was not being made worse by deflationary pressures.
Since our last Note (« The Moment of Truth ») was published on 1 September, nothing has happened to invalidate the strategic views that our Funds are now implementing. The markets' negative response to the Federal Reserve's decision to hold tight in September confirmed the dilemma now facing the US central bank.
Six years after it introduced a stimulus policy on an unprecedented scale, investors may well be dreading the start of a monetary tightening process (a fear that has caused Janet Yellen to step back), but they are also wary of maintaining exceptional monetary conditions, which they rightly see as reflecting ineffective control over the real economy. Now faced with the problem of how to exit from quantitative easing, **the markets are heading into a period of great uncertainty, following six years in which they have benefited from confidence in central banks' support. **
An umpteenth increase in monetary stimulus, especially in the eurozone or Japan, is likely and could restore investors' confidence temporarily. However, the credit market has started to deteriorate as the global economic slowdown continues, compounded by China's drastic rebalancing and related deflationary pressures.
From the United States to China, Europe to Japan, what the over-indebted global economy needs is to increase its potential growth. Yet this is something on which central banks have admitted they have no grip. They have managed to protect the markets since 2009 and give governments a window of opportunity to make the necessary reforms.
The window is starting to close but few reforms have been carried out, growth remains too weak to reduce debt levels, and inflation has failed to pick up. Our portfolios remain cautiously invested, concentrating on high visibility equities and with higher exposure to long-dated government bonds.
A slower global economy
The escalation of China's economic slowdown as surplus liquidity is flowing back (see our Note for September is clear: according to figures from China's national statistics office, which has never been known for being overly pessimistic, profits from Chinese industry were down by another 8.8% in August (-22% for automobiles, -72% for oil & gas, and -10% for telecoms).
The property market is slowly improving (at least in the major cities) and consumer spending remains solid.
However, our local observations confirm our fear that the capital flight seen in August, exacerbated by a clumsy devaluation of the yuan and the subsequent introduction of foreign exchange controls, has left its mark on private sector confidence.
In the end, the authorities will probably manage to rebalance the country's growth and set it back on a reassuring trajectory. However, progress towards this goal will be difficult, hindered by political priorities and the amount of industrial overcapacity to be reined back in.
AExtreme caution is still required in Brazil, which is the author of its own misfortune as well as a victim of China's industrial slowdown. The deepening recession is widening the fiscal deficit, and the government's forecast of a primary deficit for 2016 (i.e. a deficit even before debt servicing!) without any reform plan or credible budget adjustment programme rightly prompted the S&P rating agency to downgrade the country's debt to junk status.
In the United States, consumer spending is holding up for the time being but industrial data published in the last two months has generally been weak.
The manufacturing PMI fell again in September with new orders down. Meanwhile, employment figures, which had hitherto been the most positive indicator available to the Fed, were well below forecast in September.
In Japan, where quantitative easing was twice as ardent as in the United States, the rate of underlying inflation (+0.8%) has offered a little reassurance but the Tankan manufacturing index for September confirmed that economic growth remains very close to zero.
In the eurozone, where a cyclical upswing is undeniable and the source of much market expectation, the CPI estimate dropped back into negative territory for the first time in six months in September (-0.1%), and wholesale prices were down 2.6%.
This global economic slowdown would be less of an issue if it was not being made worse by deflationary pressures and did not occur at a time when confidence in central banks' ability to provide an effective solution is starting to be questionable.
The confidence issue
The Fed has run out of ammunition now that QE is over and Janet Yellen has not yet managed to regain the slightest leeway over interest rates. In theory, the Bank of Japan and ECB can reload.
However, the unavoidable law of diminishing returns makes it unlikely that their extremely accommodative monetary policies, which have had little impact on real economic activity so far, would have much more in the future.
Confidence is such a fundamental cornerstone of the financial system that there is little chance of it giving way suddenly. The markets have not had to watch a leading bank collapse.
But they will have to deal with the end of a period in which the crux of economic reality could be ignored in favour of an unprecedented liquidity cycle bearing a central bank guarantee.
They will now have to face the reality of emerging market economies slowing, with all the threats that they present to the modest US recovery and highly fragile European and Japanese cycles.
Within the context of this major transition, the high yield credit market's recent decline is particularly worrying. It now goes well beyond that of equity markets, even if we exclude the oil sector from the comparison, despite the two markets traditionally being closely correlated.
Downtrend in eurozone inflation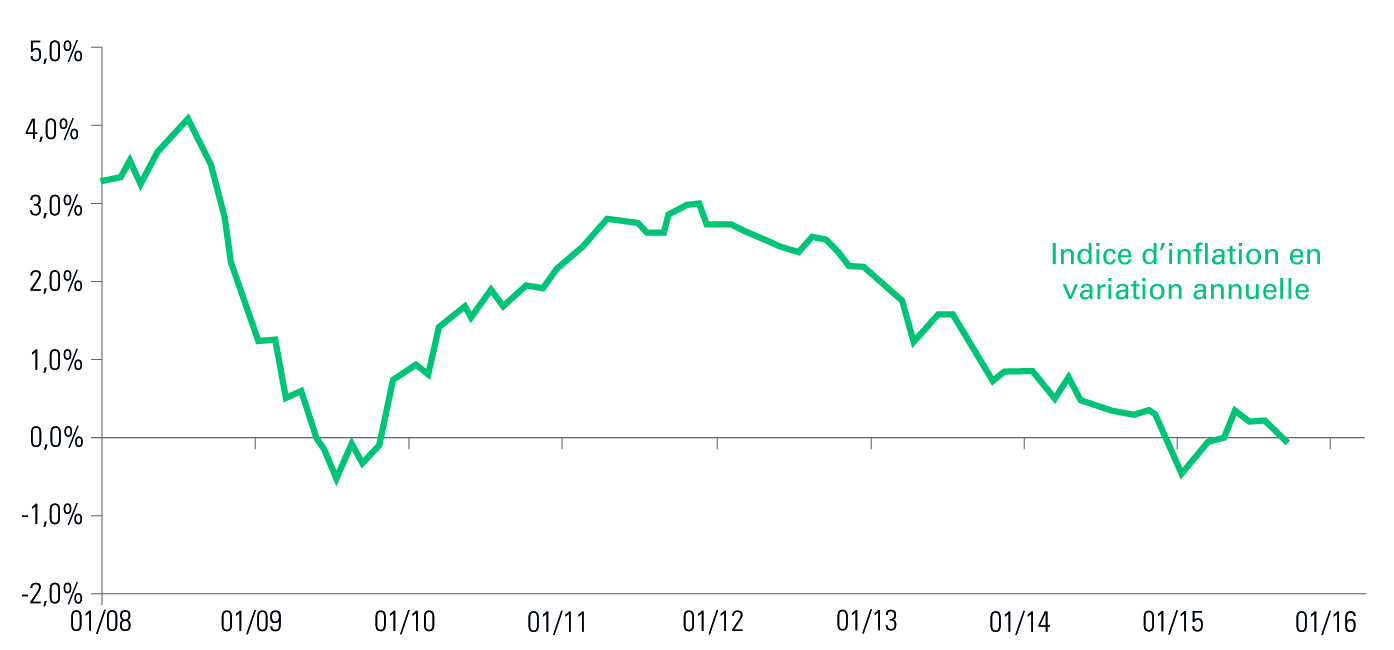 The confidence issue also concerns asset management very directly
Six years ago passive managers issued a formidable challenge to active managers, operating on markets that no longer responded to fundamental analysis criteria but to financial flows alone. The period of instability ahead heralds the end of indices' continuous rise and could therefore seal the fate of benchmarked management.
This transition will represent a historic opportunity for active managers. However, the challenge will be a big one and will need to be met over the long term. Ourselves, despite a strategic analysis that has so far proven correct, took short-term damage from the extreme market movements in August, being slow to realise that the yuan's devaluation would destabilise global markets within a few days.
This wiped out a large part of the gains that some of our Funds had accumulated since the beginning of the year. Mistakes are obviously part of active management but we should clearly have been able to avoid this one. We are now on a heightened state of alert but our strategic analysis is unchanged.
We are aware that we are once again going against the consensus, which is reluctant to accept the idea of a major transition and would like to go on believing in central banks' eternal omnipotence. "Don't fight the Fed" – and certainly not the ECB – is seen as an absolute rule. However, our experience of the last 27 years has taught us that confidence begins with courage of one's convictions and a reluctance to go with the flow.
We will still make mistakes sometimes, but will keep working hard, always, to honor the dual mandate that investors give us : to protect their capital from the risks of a severe sell-off, and build strong performance over the long term. We know that trust is not a right but is earned over time.
Deterioration in the US credit market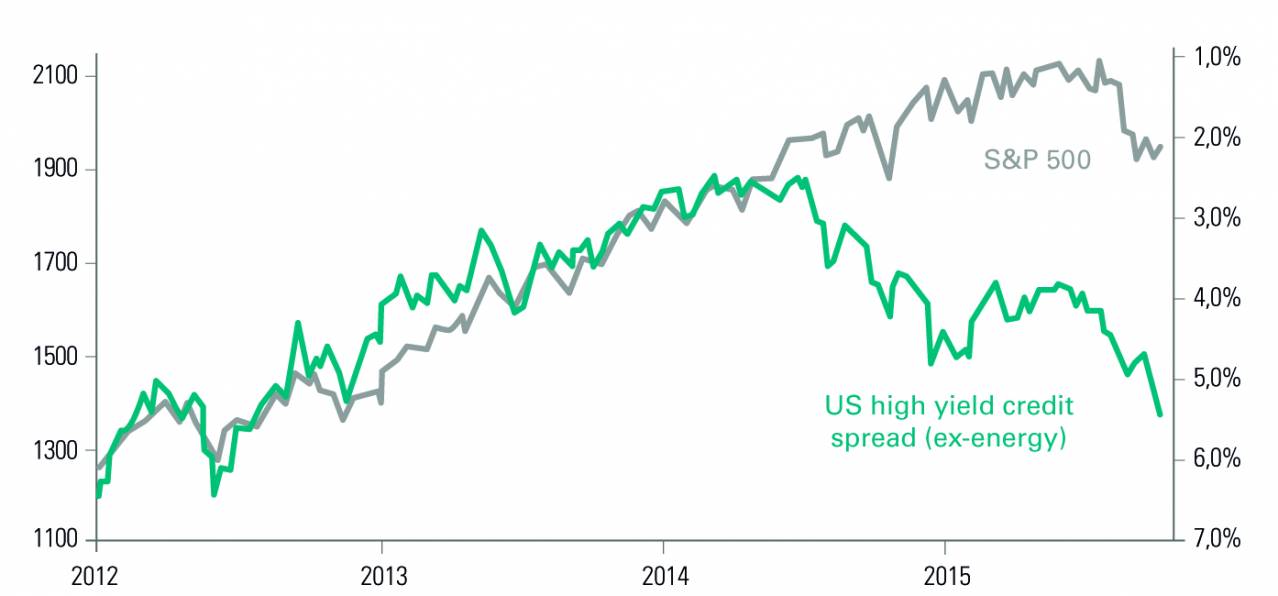 Investment Strategy
Currencies

The world's main currencies - US dollar, euro, yen and sterling - remained stable over the month while those emerging market currencies with the weakest fundamentals continued to slide, with the Brazilian real down nearly 10% in September alone.

Our emphasis on developed market currencies, most notably the euro, therefore proved justified.

Our short positions on the most vulnerable emerging market currencies boosted performance and were maintained.

Fixed income

Sovereign bond yields eased in September, affecting safe haven assets such as US and German bonds as well as debt in Europe's periphery.

We increased our global modified duration towards its maximum permitted levels during the month by strengthening our US Treasury positions.

This defensive stance should continue to pay off as fears mount about global growth and deflationary pressures remain heavy.

Equities

Equity markets continued the fall that began in August, taking the combined drop for the last two months to more than 10%. Although China lay at the heart of this correction, developed markets proved no more resilient than emerging markets.

Japan and Europe again posted some of the poorest performances. Given the circumstances, we made very little changes to our regionally balanced portfolio focused on high quality stocks. We continue to favour companies with stable balance sheets and/or cash flows, whose earnings growth is not overly reliant on the pace of global growth.

Against this highly unstable backdrop, we maintained our hedges on the main global indices with a view to keeping our global funds' exposure very low. Our funds' short-term performance will thus depend largely on our stock selection.

Commodities

Carmignac Portfolio Commodities ended the month down, but outperformed its reference indicator. We are keeping the Fund's exposure low at a time when commodity markets are highly volatile.

We are continuing to strengthen positions selectively, especially in the energy sector. Indeed, our optimistic view of the medium-term balance between oil supply and demand has not been affected by recent economic developments, so we are taking advantage of sharp market movements to cost-effectively strengthen our positions in quality stocks whose valuations do not reflect fundamentals.

Funds of Funds

It was a disappointing month for our funds of funds, whose defensive positioning could not make up for falls in the underlying funds.

Exposure levels nonetheless remained moderate at the end of the month.

The multi-asset-class dimension of the portfolio's construction will be essential if we are to steer a path through this complicated period of market volatility.

For our funds of funds, this means greater exposure to the Japanese yen, which provides a safe haven.