Quarterly Report
Economic analysis
China's devaluation and the Fed's prevarication due to the possibility of US activity dipping seem to reflect three major structural developments. These include weaker potential growth due to high global debt levels and the persistence of deflationary forces worldwide, as well as the fact that liquidity is drying up as foreign trade weakens and initial attempts are made to normalise monetary policy.
Macroeconomic analysis
Three months ago, we believed that global growth would remain below the consensus forecast, but that inflation would edge up under the steadying influence of oil prices, ECB initiatives and, in the United States, slightly firmer wage growth alongside a continued real estate price recovery.
While we were proven right on economic growth - sluggish at best - we have to admit that we were wrong about the easing of deflationary pressures.
The unexpected devaluation of the yuan, although limited to -3.5%, not only weighed on excessive global growth forecasts but also revived downside pressure on inflation, which we thought had subsided for a while.
The effectiveness of accommodative monetary policies in developed countries was suddenly called into question.
Since Lehman Brothers collapsed in 2008, the institutionalised quantitative easing conducted by the Bank of Japan and by the Federal Reserve has allowed governments to refinance high public debt at very low interest rates. This has led to a considerable wealth effect, driving up asset prices and contributing significantly to a respectable pace of economic growth.
In the United States, this monetary policy has effectively enabled GDP growth to average around 2.0% since 2009 and made it easier to reduce the country's total debt. In Europe, it prevented the collapse of the eurozone by easing the debt burden of southern countries - which would otherwise have become unsustainable, but it did not lead to a satisfactory growth rate or to develeraging.
Emerging markets have greatly benefited from the indirect effects of monetary policies pursued in developed economies, as interest rate cuts brought about by central banks' bond purchases have diverted financial flows from investors seeking the highest returns.
These flows boosted emerging market growth; however the global slowdown that began in 2011 caused a slowdown in emerging economies, which was nevertheless limited by an increase in debt amid an international liquidity glut.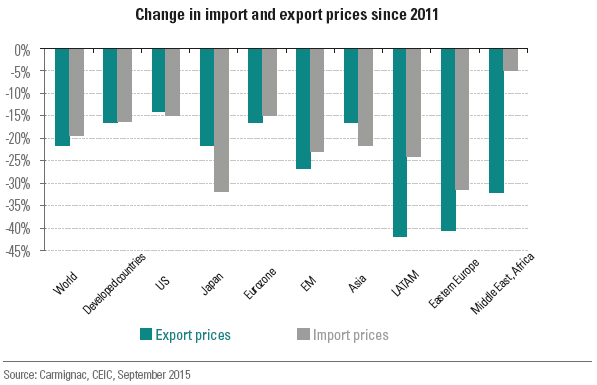 The Chinese economy is making less of a contribution to global growth
Three main reasons explain the depreciation of the yuan: the first is the general slowdown in emerging growth, from which China was not spared.
The massive infrastructure investment phase is over, and the production-based economy is turning into one increasingly driven by consumer spending and the services industry.
These two trends act as a head-wind for growth and productivity gains, and reduce the knock-on effects to the rest of the world as the country imports fewer commodities and recycles less of the balance of payments surplus.
The second is the yuan's dollar peg, at a time when the United States is tightening its monetary policy, and when China should be looking to ease its own policy in response to the slowdown.
The third reason for the devaluation is the impact of China's decision to open up to the global economy, in particular by opening its capital markets.
This allows Chinese people to sell the yuan and buy foreign currencies, encouraged by the lower return on Chinese capital.
The central bank must then sell foreign exchange reserves to maintain the quasi-fixed link to the dollar, and this selling becomes more intense when the yuan's stability is called into question. For an administered economic system, this opening-up drive is not without its risks.
The devaluation and mid-year stock market crash were handled particularly badly. These two failures by the Chinese authorities sparked scepticism among Chinese people and capital markets over their ability to transform and open up the Chinese economy.
As Chinese economic growth rate steadily falls, the country's ability to drive growth in the rest of the world wanes, and its economic transition meets hurdles, China's set of difficulties become a drag on global economic growth.
The exchange rate adjustment in August would thus appear to herald a sharper devaluation, which would weigh on both export prices and on global liquidity.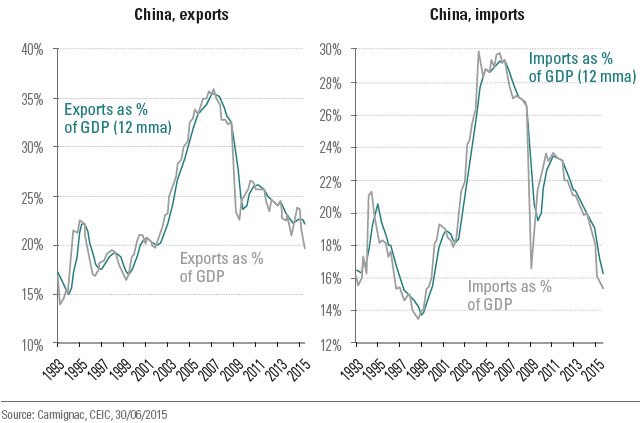 The Eurozone is heavily dependent on exports
In the United States, the Fed's prevarications also gives the impression that the economic balance is reaching its limits. The Federal Reserve is torn between the need to normalise its policy by raising key interest rates, and the fear of a serious monetary policy mistake.
Recent economic data showing the impact of the panic unleashed by the yuan's devaluation and dreadful side-effects for global liquidity seem to justify concerns about misjudging monetary policy.
This data reflects a marked slowdown, with the PMI dipping into recession territory (falling from 53 to 48.7) in August, while the ISM manufacturing index is close to levels indicating an impending contraction (standing at 50.2).
The margin growth reported by nonfinancial companies is negative (-0.2%) over one year, while growth in new durable goods orders is down 3.1% with the production capacity utilisation rate freefalling to 77.6%, thereby discouraging investment. Retail sales for September were in the red and the producer price index slipped further into negative territory (-1.1% Y/Y).
We understand the argument that the contemporary economy is very poorly reflected in this statistical indicator that puts too much emphasis on industrial activity when the service sector's share of the economy is continuing to grow. However, we have seen recent disappointments on the employment front, including problems converting an enviable unemployment rate of 5.1% into nominal pay rises (stabilised at 2.2%).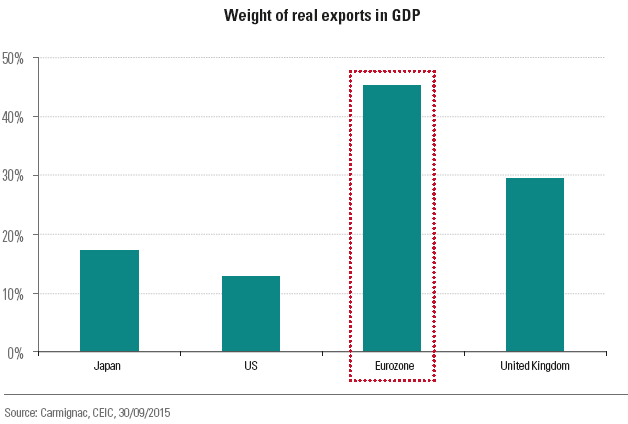 QE facing global growth and over-indebtedness
We believe the devaluation in China and the Fed's procrastinations - driven by concerns that the US economy could relapse - reflect three major structural trends:
Weaker potential growth due to high global debt levels. Between 2007 and 2014, average GDP growth dropped from more than 8% to 4.5% in emerging countries, from over 3% to 1% in Europe and from 3.5% to 2.5% in the United States.
At the same time, global leverage has increased considerably since 2007.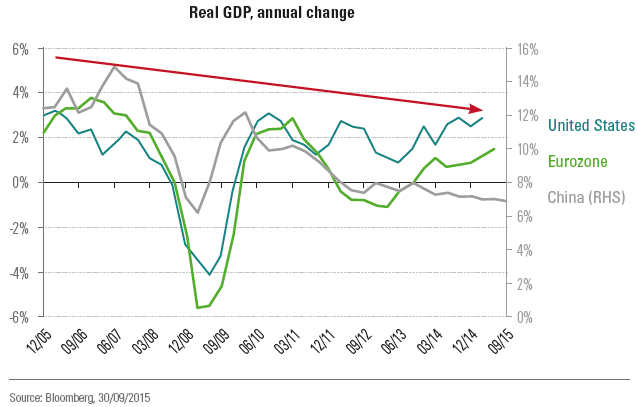 Debt rose from 150% to 232% of GDP in China, 190% to 225% in South Korea and 220% to 260% in Europe.
Only the United States and India saw a slight improvement compared to the highs of 2010.
Global deflationary forces are very visible in import and export prices. On average, these prices have fallen by nearly 20% around the world since 2011. This began before the decline in commodity prices, thereby reflecting widespread deflationary pressures. They show global production overcapacity and a general desire to find an external source of growth to offset weak domestic demand.

Liquidity is drying up as foreign trade weakens and initial attempts are made to normalise monetary policy. This liquidity dry-up is caused first by a nominal decrease in global exports, which means less recycling of trade surpluses, second, by fewer government bond purchases from commercial banks due to stricter regulations on their leverage, and finally, by the suspension of US quantitative easing.
?The squeeze on liquidity will probably weigh on valuations and therefore undermine the wealth effect, which had hitherto been so beneficial to global growth. The IMF recently downgraded its world growth forecast further, this time from 3.3% to 3.1%.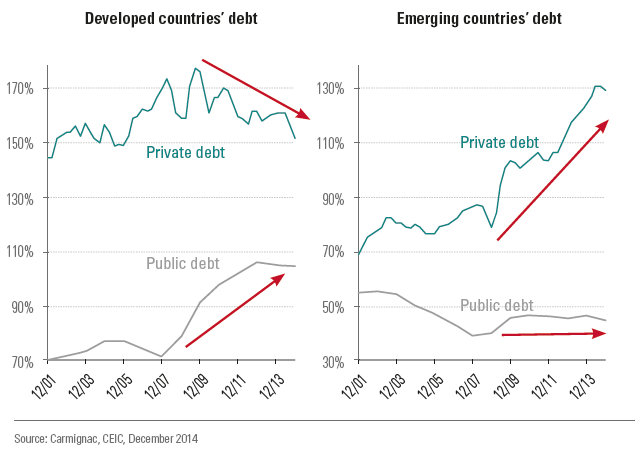 Despite six years of lax monetary policy, the global economy continues to suffer lacklustre growth and an inexorable rise in total debt. Weak activity and a lack of inflation raise the issue of how structurally sustainable global debt is at a time when the economy is showing signs of weakness in the United States and Chinese governance is causing concern.
It is probably too soon to consider whether the correlation between negative economic newsflow and positive news for risk-carrying asset prices - driven by the expectation of further monetary easing - is about to ends.
Monetary easing could happen quickly in Europe and Japan. But it is harder to imagine in the United States, where the only debate within the Fed is the timing of a key rate increase. The effectiveness of central bank models could soon be severely tested.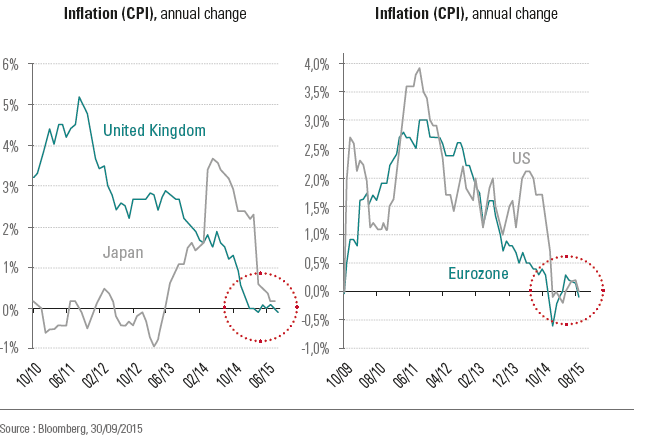 Investment Strategy
Slower international growth at a time when global liquidity is hard to predict leads to persistently high volatility, requiring great reactivity and, where possible, proactivity.
On equity markets, continued sub-potential GDP growth justifies our focus on companies able to prosper in a deflationary environment as well as our use of hedging - with the liquidity issue set to become investors' primary concern once again.
Against this backdrop, government bonds should provide the ultimate safe haven, even if the liquidity dry-up may limit their upside potential. Corporate bonds - high yield in particular - seem to offer a less attractive risk profile and require particularly stringent financial analysis.
On the foreign exchange front, we are expecting the dollar to remain weak as the Fed appears increasingly less threatening in the short term. Going forward, if European growth disappoints and if the fears described above materialise, it is likely that global flows will return to the dollar as a safe haven.